The Israel Defense Forces provides excellent medical care to soldiers serving in defense of their country. However, there are always additional needs that vary depending upon the situation, including rehabilitative supplies, replacement of personal goods lost in the field, or emotional support for the soldiers and loved ones. The Helping Israel Fund visits and provides support and equipment to help ease the injured soldier's pain. A rapid response team of representatives throughout Israel ensures that as soon as possible after a soldier is injured, he or she will be offered the full support of the Helping Israel Fund.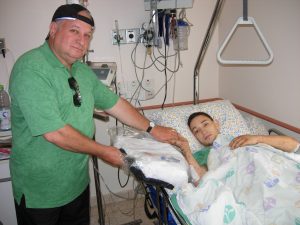 Just a few examples of what we have done to help soldiers injured in major operations and acts of terrorism:
Distributed dozens of tablet computers to injured soldiers in different hospitals all around the country.
Bought special beds and orthopedic bean bags for soldiers with injuries to their backs and legs.
Provided protective sunglasses and other specialized gear for a soldier who suffered an eye injury.
Provided a tablet with unique speech therapy software programmed into it for a soldier who lost the ability to speak after sustaining a head injury.
Distributed computers, televisions, and beds to soldiers at home who are not yet mobile.
Bought specialized physical therapy gear for soldiers in rehabilitation.
Distributed gift certificates and groceries to injured reserve unit soldiers and their families.
Brought a famous comedian to visit soldiers in the hospital rehabilitation unit with serious injuries to spend time with them and lift their spirits.
Hosted injured and disabled veterans in a VIP box at professional basketball games.
Bought a large amount of groceries for the family of a Bedouin soldier who was severely wounded guarding a checkpoint. He has a wife and young children who are having difficulty making ends meet, and we offered to help in any way possible.