Israeli youth spend the best years of their lives defending their country. While their peers in other Western countries around the world are pursuing careers and higher education, those in Israel must give their all to ensure the security of their friends, family, and nation. Combat soldiers spend countless nights guarding their bases and patrolling Israel's borders, while those in support positions pore over maps, books, and computers day and night, accruing skills which may or may not prove useful in the civilian job market upon their release.
In the cases where their army service does contribute to their practical skill set, it is usually not enough to allow one to immediately join the job market. If such soldiers come from disadvantaged socioeconomic backgrounds, this could preclude them from higher education and deprive the Israeli economy and society from their talents, skills, and knowledge. The need is especially acute among former "lone soldiers" who have limited, if any, support from family.
To fill the need of released soldiers who yearn to become productive members of society in their civilian lives, we provide scholarships to worthy students and aspiring students who were honorably discharged from the Israel Defense Forces after their mandatory service. The scholarships go to veterans who are in need of financial assistance so they can pursue continued education when they would not have had the opportunity otherwise. We have seen that if given the ability to study, together with the skills and work ethic they picked up in the army, the veterans can become well-rounded, successful professionals.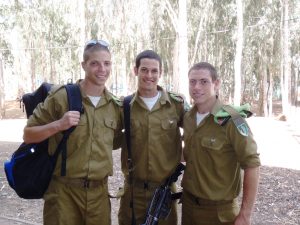 In their last year of army service, they can apply for a scholarship to study at any college, university, or vocational school in Israel. There are countless institutions of higher education throughout Israel which contribute to a thriving economy and an amazingly successful high-tech sector! A third of scholarship recipients choose to study engineering, an important field in Israel and worldwide.
A veteran's eligibility for our scholarship is determined by his or her army record, financial status, an interview, and recommendations from commanding officers. We pay for up to four years of tuition as well as related educational expenses, and they take care of the rest, doing their utmost to excel in their academic studies and contribute to the culture and economy of Israel! The scholarship recipients also commit to weekly volunteering with at-risk youths, Holocaust survivors, and financially disadvantaged children in their communities, so that they can give back and feel that they are helping others, as well!
The released soldiers whose education we sponsor send us regular updates on their academic progress, and it is amazing and heartwarming to know that we are profoundly influencing and improving the trajectories of the lives of these wonderful young men and women:
I would like to thank you from the bottom of my heart for your incredible donation. It was an amazing gift that changed my attitude and many aspects of my life. This gift will also determine my future in pursuing a good and successful career for me and my family.
Alona
I am very grateful for the opportunity you have given me this year to be able to study without worrying about the financial aspects of life. It helps me stay focused on my courses and achieve higher grades as a result.
Nir
I am happy to know that there are people like you, who are willing to help. Thanks to you, I can focus on my degree. I appreciate your efforts!
Itai
My average stands at 98 and I am sure it's wouldn't have happened without your help. Thanks to your support I could concentrate on my studies, and I succeeded in achieving good grades, which allowed me to… fulfill my dream to learn what I love and am good at.
Or
Thank you very much for your generous efforts! lt makes me optimistic to know that there are people like you, who are willing to help in such a tremendous way.